by Kristie Turck
|
Last Updated:
February 22, 2020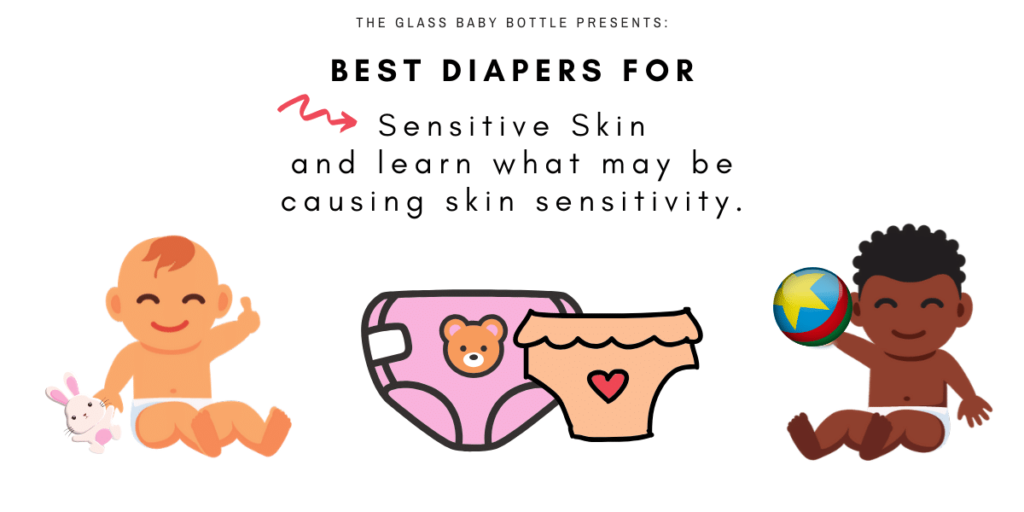 To be able to determine the best diapers for sensitive skin. First, you will need to try to assess what is causing your baby's skin sensitivity. This is an important and often overlooked step.
Instead of just masking your baby's diaper sensitivity with a diaper cream, which will create temporary relief. We will take a look at what is causing the skin sensitivity and which diaper brands would be a smart choice for your baby.
Did you know your baby's skin is the largest organ in their body ( and yours too) if it is irritated there is probably a good reason as to why?
Baby's sensitive skin can easily become irritated by things like chemicals and fragrances.
A good starting point is looking for diapers that are:
Chlorine Free Diapers
Fragrance-Free Diapers
Free of Sodium Polyacrylate
TO OUR READERS: As an Amazon Associate I earn from qualifying purchases. Some links may be affiliate links. We may get paid if you buy something or take action after clicking one of these.
Why is Chlorine in Diapers?
Chlorine is a super harsh chemical that is used to "bleach" diapers.
This is the same harsh chlorine that you may have in your house and use as a super-strong cleaning agent.
When baby diapers are "bleached", residual chemicals from the bleaching process can irritate the baby's skin.
As more parents are becoming concerned/aware of chlorine in diapers, many diaper manufacturers are offering a chlorine-free diaper alternative.
Can Fragrance Irritate My Babies Skin?
Any fragrance that is not naturally occurring is made from some type of "chemical soup".
While most babies won't be affected, babies with sensitive skin can easily react to one or more chemicals used to make the fragrance. The reaction can come in the form of a rash or general discomfort and irritation.
What is Sodium Acrylate, and Why is it in Diapers?
Sodium Acrylate is a super absorbent chemical. It is a polymer used in diapers to absorb the baby's urine and keep wetness away from the baby's skin.
The problem is sodium acrylate is so good at absorbing wetness that it can actually dry out your baby's skin. In turn, making your babies skin sensitive.
Best Diapers for Sensitive Skin, Top Picks
Your baby may have an allergy to other ingredients found in your diaper. Check out our Diaper Resources for additional information.
Diaper Resources:
Our Disposable Diaper Comparison Guide is a great resource that compares diaper brands for things like cost, latex, fragrance, and even wetness indicators.
If you are considering switching to a cloth diaper head over to our Cloth Diaper Guide.