Are you considering sending your baby to daycare? Daycares are a good choice when returning to work or needing some time for yourself. They provide your baby with opportunities to bond with others and learn new skills. In this article, we will show you how to prepare your baby for daycare. 
Regardless of whether it's a home daycare or a facility you'll want to make the transition as smooth as possible.
5 tips on how to prepare baby for daycare success!
1. Feeding. Baby taking a bottle at daycare.
This is hands down the most important advice for daycare success. Your daycare provider will be feeding your baby. Your baby needs to feel comfortable accepting a bottle from someone other than a parent. Start by having friends and family hold and feed your baby. With some babies, this will take time. Be patient. If your baby is not used to a bottle try putting a few drops of breast milk on the nipple of the baby bottle. This can help ease the transition from breast to bottle.
2. Napping. Putting baby down for naps at daycare.
Similar to having others give your baby its bottle. You will want to practice having friends and family put your baby down for a nap. Especially if your baby's accustomed to falling asleep in your arms or co-sleeping. It is best to start practicing several weeks before starting daycare. If this transition is a struggle for your baby, try sleeping with one of your baby's blankets and then having your baby use that blanket for their naps.
3. Separation anxiety when leaving at daycare
Talk to your daycare provider about how they prefer to handle drop-off and pick-up. Some providers will invite you in for a few minutes while others may prefer a door drop-off. Knowing what works best for your daycare provider will help you have a smooth transition. It is completely natural for your baby to
be upset
when first starting daycare. Over the course of several drop-offs, your baby will become accustomed to being at daycare.
4. Helpful ways to prepare for daycare.
Be prepared. Have everything your baby will need for daycare ready to go and labeled the night before. Another thing that is helpful is to dress your baby in easy-to-change outfits. Outfits that include only a few snaps will make changing a baby's diaper easier.
5. Be Punctual. Pick-up on time from daycare.
Daycares are a business.  Be sure not to be late picking your baby up from daycare. Trust me on this one, whatever your excuse is for being late, they don't want to hear it. It's your responsibility to have your baby picked up and ready to go home. Plus your daycare provider will value that you respect their time.
I hope these tips are helpful. I know some of them may seem challenging right now. But please trust me on this. Your baby will transition so much easier. And, with less stress, if you prepare your baby before it's time to start attending daycare.
Do you have tips on getting your baby ready for daycare success?
Please email me with your tips and tricks so that I can share them with our community.
Do you need more help or have questions about getting your baby ready for daycare?
Send me an email and I'll try to help or point you in the right direction.
Kristie Turck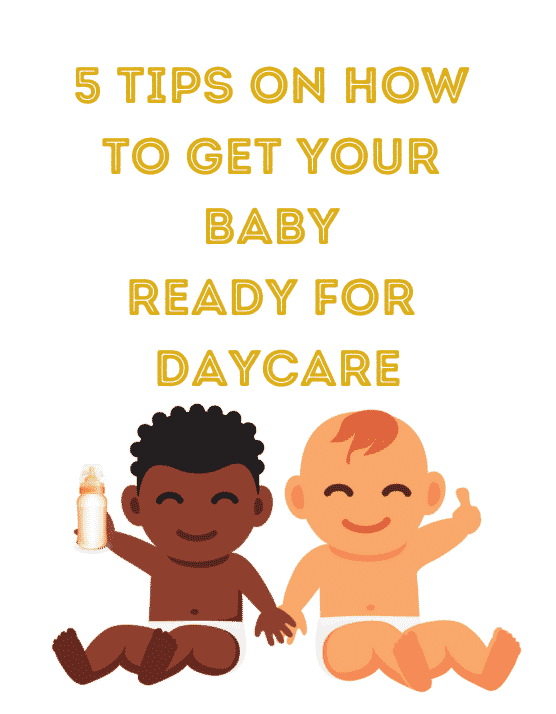 5 Tips On How To Get Your Baby Ready For Daycare
Download this cheat sheet and make transitioning to Daycare a breeze
By subscribing, you agree to get emails from The Glass Baby Bottle. We will respect your privacy and you can unsubscribe any time.