What Do I Need To Know About Cloth Diapers
The Cloth Diaper Guide is designed for you to understand all options you will need to make in choosing the best cloth diaper for your baby.
Today's cloth diapers are modern, stylish, and sophisticated. No more pins or bulky cloth with sticky elastic covers.
Instead, you will find cotton, organic cotton, hemp, or bamboo blends of material that have an outer protective shell and are beautifully designed and trim fitting and
TO OUR READERS: As an Amazon Associate I earn from qualifying purchases. Some links may be affiliate links. We may get paid if you buy something or take action after clicking one of these.
Cloth Diaper style options include All-In-Ones, Pocket Diapers, and One Size.
All-In-Ones (AIO):  All-In-One Diapers have an absorbent liner and a protective outer layer integrated into a single diaper. The best way to describe an AIO is that it is basically like a disposable diaper. It has everything you need. The only difference is that instead of throwing the diaper in the trash you simply remove any solids from the diaper. And store the cloth diaper in a pail or dry bag until you are ready to launder them. At first, you will need to wash your cloth diapers every day or two but as your child grows, and uses fewer diapers, you may get into a 3-4 day washing pattern.
Pocket Diapers:  Pocket cloth diapers have a protective outer shell and a stuffer that inserts into the protective diaper shell. Depending on what brand you choose there may be different stuffers for daytime or nighttime use. With pocket diapers, you can usually use the shell for a longer period while only having to wash the stuffers. With pocket diapers, if the shell is still clean, you remove any solids from the stuffer and store your diaper in a pail or dry bag until you are ready to wash. At first, you will need to wash your organic diapers every day or two but as your child grows, and uses fewer diapers, you may get into a 3-4 day washing pattern.​
One Size:  A one-size cloth diaper is a diaper that can be used from infant through toddler age. Most one-size diapers fit from around 7-35 lbs. If a diaper is not one size usually the options will range from newborn, 7-20 lbs, and/or 17-30 lbs, depending on the diaper manufacturer. Some parents prefer the convenience and cost savings of the one size while others prefer the trimmer fit of diapers specifically designed for a certain age.​
NOTE: Both Pocket and AIO's are sometimes offered in a One Size option.
How many cloth diapers will I need each day.
Refer to the following chart to estimate how many diapers you will need per 24 hour period.
| Babies Age | Cloth Diapers per 24 Hours |
| --- | --- |
| Newborns | 10-12 diapers |
| 6 months and up | 6-9 diapers |
| Toddlers | 6-7 diapers |
So, if using an All In One Diaper and you are washing your diapers at first every two days, you would want to buy about 24 diapers.
In some cases, AIO's come with a pocket to insert a stuffer in for extra nighttime protection. Usually, a stuffer will be included with the purchase of the diaper, but sometimes it is nice to buy a couple of extra stuffers for just-in-case situations.
Other things to consider when choosing a cloth diaper.
After determining the type of cloth diaper you will want to consider these additional options to your cloth diaper choice.
Style of diaper: AIO or Pocket (see above)
Size Options: One size or sized according to weight
Fastener Options: Snaps or Aplix (velcro)
Colors: there will be a number of color options.
​Brand: There are a lot of different cloth diaper brands to choose from.  Here are some of our favorites.
How much do Cloth Diapers cost?
Regular cloth diapers tend to be less expensive than organic cloth diapers. For example, the bumGenius One-Size costs about $17.95, while the bumGenius Organic AIO One size costs about $24.95.
Keep in mind that depending on the manufacturer if you buy in quantities (usually 3, 6, or 12) the price of the cloth diapers will decrease usually by 10-15%. The savings will add up over time versus disposables.
What Else Do I Need to Buy for Cloth Diapers
You might want to purchase a diaper sprayer that can easily be attached to your toilet to flush the solids out of a dirty diaper.
Other good investments include
Diaper Pail
Diaper Pail Liner
Travel Dry Bag
Wipes
Diaper Resources:
If you are interested in disposable diapers, our Complete Guide to Choosing the Best Baby Diaper  is a great resource that compares diaper brands for things like cost, latex, fragrance, and even wetness indicators.
Kristie Turck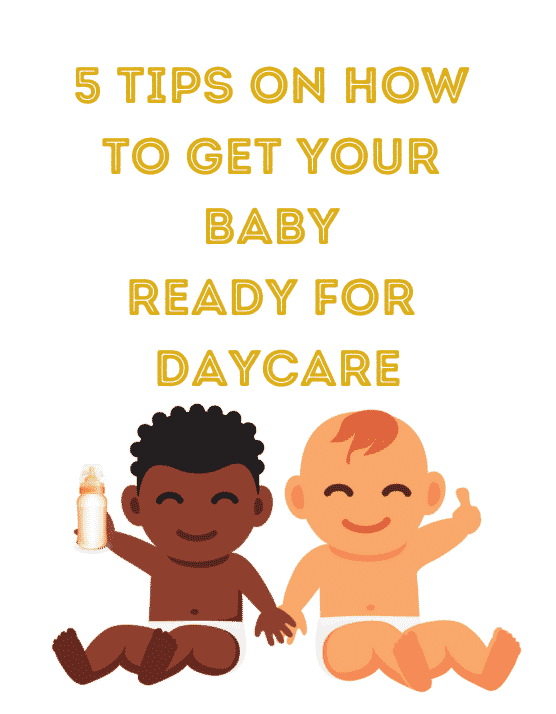 5 Tips On How To Get Your Baby Ready For Daycare
Download this cheat sheet and make transitioning to Daycare a breeze
By subscribing, you agree to get emails from The Glass Baby Bottle. We will respect your privacy and you can unsubscribe any time.