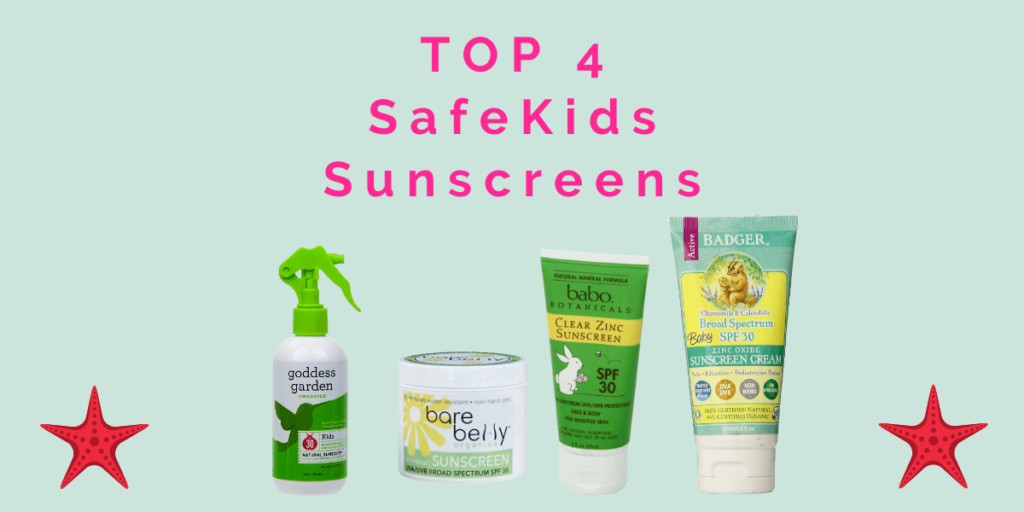 Safe Sunscreens for Kids our Top 4 Picks! Choosing a sunscreen that is safe, effective, easy to apply, and that your kids will actually wear can be a  process.  Over the years we have purchased countless bottles of sunscreen, only to be disappointed by how ineffective they were in protecting against harmful rays.  Fortunately, several savvy sunscreen manufactures have mastered the art of creating safe and effective sunscreens.
Listed below are our Top 4 sunscreen picks which just might become your family favorites too.
To make the cut these sunscreens will have:
A score of no more than 1 from the SkinDeep website, in other words, these sunscreens will contain very few if any chemicals that are deemed hazardous.  Keep in mind anything that you put on your skin (the largest organ in the body), absorbs right into the bloodstream, so that is why you want to choose only the safest sunscreens.
Passed real-world usability tests based on the many reviews and emails sent from our readers about which sunscreens actually work.
Must be easy to apply.
Safe Sunscreens for Kids, Our Top 4 Picks!
Babo Botanicals SPF 30 Clear Zinc Lotion:   If you or your children have sensitive skin this is the sunscreen for you.  It is made for sensitive skin, contains zero soy, wheat, walnuts, just to name a few.  This is a great everyday sunscreen, but for water enthusiasts, you will want to pick a different brand, as Babo does not state if the sunscreen is water-resistant.

We earn a commission if you click this link and make a purchase at no additional cost to you.
Badger has been around for years and they have perfected a sunscreen that works for babies as well as adults.  The base of the sunscreen is made from certified organic materials including Sunflower Oil, Beeswax & Vitamin E.  This sunscreen will hold up to water sports for up to 40 min.
***Keep in mind that rubbing with a towel or sand may remove your sunscreen from your skin.  Reapply often and stay hydrated.  🙂
TO OUR READERS: As an Amazon Associate I earn from qualifying purchases. Some links may be affiliate links. We may get paid if you buy something or take action after clicking one of these.
Kristie Turck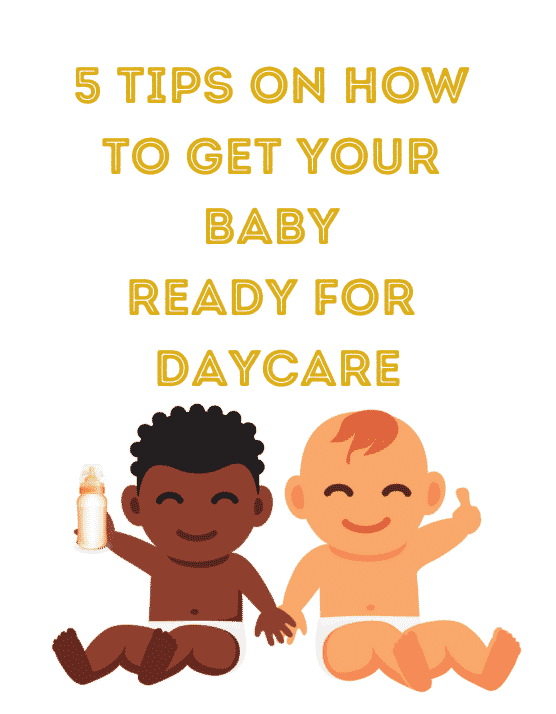 5 Tips On How To Get Your Baby Ready For Daycare
Download this cheat sheet and make transitioning to Daycare a breeze
By subscribing, you agree to get emails from The Glass Baby Bottle. We will respect your privacy and you can unsubscribe any time.